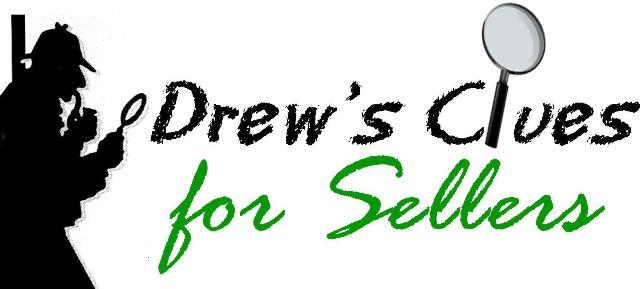 ---
**Clue#1**

Staging

Will

Make A Difference!

'Staged' homes sell more quickly & for more money! Drew has relationships with highly reputable companies, including 'stagers' to service all the extra steps you may need to take in order to sell your home.
---
**Clue#2**
Featured Home Spots get Your Property Featured First!
Realtor.com has the most Buyer traffic than any other home search website in the USA!
When you list your property with Drew, your home will be Featured First!
Based on Realtor.com statistics, 'Featured Homes' are viewed 500 times more often than standard listings! Adding the fact that Drew's listings are enhanced to the max on Realtor.com with 20+ photos, a captivating Virtual Tour along with full descriptions helps as well! We all know that people are information hungry- we supply Buyers with all the information that we possibly can!
In turn we get more informed, more ready, & more willing Buyers!
The clear result is your property gets top-shelf exposure to these Buyers!
---
Pressure of foreclosure running your life?

If you have problems paying your home loans, talk to the experts to help you make a deal with your creditors! Solutions4ShortSales will help you regain control of

your wallet... & your life!

Contact Drew for the forms & more info on the program!

**Clue#3**
---
**Clue#4**

Less $$ in Taxes Translates into More $$ in Sale Price!

High property taxes have Buyers running away? Let Drew show you how to get your property
taxes reassessed & bring that Buyer back!
He just assisted a household in Lower Makefield Township appeal their tax assessment & as a result they're

saving $173 monthly in their payment!

Drew has worked side-by-side with many
of his clients to lower their property assessments. With the decline property values, it's a good possibility your paying more taxes than you need to! Take Action! Contact Drew!
---
**Clue #5**
Market Snapshot Program is your valeted race car
of the information highway!
Stop wasting time searching Realtor.com for active, pending & settled homes in the community where you live. With one simple step, you can get automatic updates via email comprised of all the real estate activity in the MLS for your neighborhood! You pick the frequency of emails & the community you want to get info on-- whether its the one you currently reside in or the one you want to move into! You will receive quick reference info as well as more detailed reports like this one below!
Click here to sign up right now!
Water Powered Backup Sump Pump Systems
Sometimes with heavy rain in our area we see high levels of rainfall- even flooding. We are sometimes subjected to we were subjected to very long power outages, which prompted the sell-out of gas-powered generators to run our sump pumps. Well, Drew says "Forget those generators!" There is something much more reliable to run your sump pump and keep your basement dry.
These are extremely reliable, very powerful, water powered back-up sump pump systems available for home installation. With no battery to wear out or maintain, no charger to plug in or monitor, they are designed as an automatic, independent system from the primary sump pump. They are "set and forget" appliances that bring peace-of-mind to you, the homeowner: no matter where you are the backup pump will keep your basement dry with no electric power.
Contact me to get the name of contractors who will give you a discount
because of me!
**Clue #7**
Using My Database of Valued Vendors
Being in the real estate industry for so many years has allowed Drew to build quality relationships with reputable companies that can handle any type of job you may need completed! I have a close network of my trusted, reliable & reasonable contractors that would love to help you!
Go to LeTip of Newtown's site to view the whole list!
Electricians
Painters
Roofers
Chimney Inspection & Cleaning
Public Adjusters
Power-Washers
Flooring Installation
Movers
General Construction
Home Additions
Loan Officers
Appraisers
CPA's
HVAC Installation & Repair
All Types of Insurance
Interior Designers
Chefs & Caterers
Driveway Sealing
Digital Printing
Dry Cleaners
Payroll Services
Professional Cleaning
Flood & Mold Clean-Up
Swimming Pool Installation & Maintenance